Get the Outcomes Analysis White Paper
Patient Outcomes With Remote Patient Monitoring
Remote Patient Monitoring provides measurable improvements in patient health outcomes across treated conditions, including hypertension, obesity, and diabetes. These quantitative patient outcomes provide credible data on patient progression and practitioner performance.
Measurable, cohorted outcome data enables practitioners to know that remote patient monitoring is having a positive impact on patient health, preventing unnecessary emergency care, and can save lives.
Most Impactful Remote Patient Monitoring Program for Chronic Conditions
High Blood Pressure: -4.7mmH
Hypertensive patients saw a clinically meaningful average decrease in blood pressure of 16 mmHg systolic and 8.9 mmHg diastolic at 180 days.
Diabetes: -9.3 mg blood glucose /dL
Diabetic patients saw a clinically meaningful decrease of 9.3 mg/dL in blood glucose within the 180 day period.
Patients who started at >287 lbs lost a clinically meaningful 12.1 lbs in 90 days. After a three month period, the weight reductions were sustained.
Monitor patient progress and calibrate their care plan
Armed with more timely triggers like alerts when patients report measurements outside of their safe ranges and longitudinal measurement trends, providers can deliver more timely preventative care between visits to get ahead of escalating trends.

Providers behave better when observed, making the 100Plus Provider Portal an accountability tool for practice leadership in addition to being a resource for clinicians.

Patients also behave better when observed, therefore daily monitoring from doctors and reminders from Esper become strong accountability boosters.

Patients who regularly record their biometrics may have increased intrinsic motivations when it comes to making healthy behavioral changes.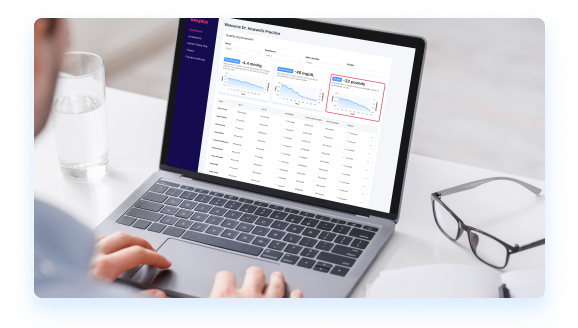 Track the quality improvement of your practice
See longitudinal biometric trends for each patient, and aggregated across your practice.
Develop documentation of quality improvement efforts and impact for value based care payment requirements like MIPS.
Filter by cohort to understand how the effectiveness of your RPM program improves as your clinicians learn and implement best practices.
Filter by office, provider and more to understand quality improvement more granularly, and align incentives at your practice.